Opening Film
The French Dispatch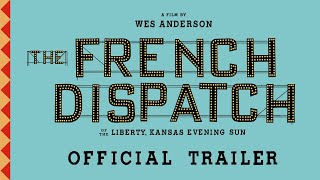 $25 Regular
$20 for Members (not a member?)
THIS FILM WILL SCREEN FOR IN-PERSON AUDIENCES ONLY

Montclair Film is incredibly excited to welcome you back to the movies at the 10th Annual Montclair Film Festival! We've been working hard to create a safe and respectful environment for our patrons to come back together and experience the magic of moviegoing once again. And we can't wait to get started with our 2021 Opening Film, THE FRENCH DISPATCH.
Wes Anderson (THE ROYAL TENENBAUMS, THE LIFE AQUATIC WITH STEVE ZISSOU) has earned a reputation as one of the cinema's most distinctive visual stylists. In his new film THE FRENCH DISPATCH, Anderson has created a love letter to journalists, following the exploits of a band of writers, editors, and essayists working to publish The French Dispatch, a fictional twentieth century magazine, published in a fictional French city. 
The film, structured as a collection of stories from the magazine, is at once delightful and thoughtful, as interested in the history of cinema as it is the magazine itself, a perfect marriage of ideas and visual storytelling. Featuring an all-star cast at the top of its game, THE FRENCH DISPATCH is a wonderful, welcome return to the movies. Montclair Film is proud to present THE FRENCH DISPATCH as the Opening Film of the 10th Annual Montclair Film Festival.
This screening is co-presented by

Genre

Runtime

107 min

Section

Opening Film

Release Year

2021

Director

Wes Anderson

Producer

Wes Anderson, Steven Rales, Jeremy Dawson

Cast

Benicio Del Toro, Bob Balaban, Frances McDormand, Mathieu Amalric, Christoph Waltz, Adrien Brody, Timothée Chalamet, Stephen Park, Edward Norton, Tilda Swinton, Lyna Khoudri, Bill Murray, Jason Schwartzman, Léa Seydoux, Jeffrey Wright, Owen Wilson, Anjelica Huston, Henry Winkler

Country

USA