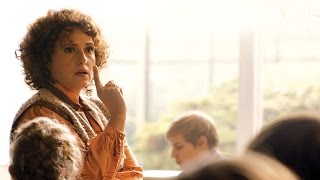 $14.00
$12.00 with membership (not a member?)
Bratislava, a suburban school, 1983. Since the arrival of Maria Drazdechova (Zuzana Mauréry), the school's newest teacher, life has turned upside down for students and parents. When a student's suicide attempt is tied to Miss Drazdechova's unconventional methods, the principal is forced to call the students' parents for an urgent meeting to decide how to proceed: move Miss Drazdechova out of the school or let it go in deference to her high connections within the Communist Party? Will the families dare to stand up for what they believe, or will they just remain silent for fear of possible repercussions?
In Slovak, with English subtitles.
Genre

Runtime

103 min.

Section

Fiction Feature

Release Year

2016

Director

Jan Hřebejk

Producer

Zuzana Mistríkova, Ľubica Orechovská

Cast

Zuzana Mauréry, Csongor Kassai

Country

Slovakia, Czech Republic