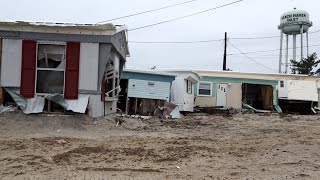 $10 Regular
$8 for Members (not a member?)
Presented in partnership with


THIS TIME NEXT YEAR tracks the resilience of the Long Beach Island, NJ community for one year as they rebuild after 2012's Hurricane Sandy. Using a mixture of verité, first-person accounts, and the residents' own footage THIS TIME NEXT YEAR is a poetic documentation of a shore community as they battle local politics, cope with personal tragedy, and band together in the face of transition.
Join filmmakers Jeff Reichert and Farihah Zaman, along with Angela Anderson (Sustainability Coordinator for Long Beach Township), Joe Mangino (Co-Founder, New Jersey Organizing Project), Tom Harrington (Associate Director, Urban Coast Institute at Monmouth University), and Patricia Doerr (Director of Coastal and Marine Projects at The Nature Conservancy) for a panel discussion on The Future of The Jersey Shore.
Everyone in attendance will receive free popcorn and gift of branded string bag tote + plush horseshoe crab, compliments of The Nature Conservancy.

Runtime

90 min

Release Year

2014

Director

Jeff Reichert, Farihah Zaman

Producer

Dan O'Meara, Jeff Reichert, Farihah Zaman

Country

USA