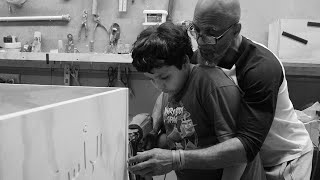 $10 Regular
$8 for Members (not a member?)
Virtual Screening Available In the USA
Available Friday, May 14 – Thursday, June 24
NEW YORK TIMES CRITIC'S PICK!
Filmed in luminous black-and-white in Newark, NJ, director Zeshawn Ali's documentary TWO GODS tells the story of Hanif, a Black Muslim casket maker who spends his days ritually cleaning and preparing the bodies of his brothers in faith for burial. Active within the community, Hanif takes an interest in two young men; Furquan, a fun-loving 12-year-old grappling with responsibility, and Naz, a 17-year-old quickly learning the hard lessons of the streets. But will Hanif's own struggles with his past prevent him from providing help to those he seeks to support and change?
MFF 2020 Winner Special Jury Prize – New Jersey Films Competition.
Runtime

79 min

Release Year

2020

Director

Zeshawn Ali

Producer

Aman Ali

Country

USA