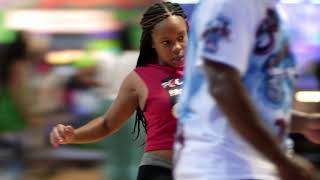 Tickets are free of charge but required for entry.
When America's last standing roller rinks are threatened with closure, a community of thousands battle in a racially charged environment to save an underground African American subculture. UNITED SKATES is an examination and a celebration of a phenomenon that has been overlooked by the mainstream for generations, yet has given rise to some of the greatest musical talents of our time.
Q&A with co-director Tina Brown, producer Tiffany Fisher-Love, editor Katharine Garrison, DP Brandon Young and subject Tariq Ahmad to follow the screening.
Genre

Runtime

89 min

Release Year

2018

Director

Tina Brown, Dyana Winkler

Subject

Salt-N-Pepa, Reggie Brown, Coolio, Vin Rock, Alonzo Williams, Queen Latifah

Country

USA

Website

Facebook page

Twitter account