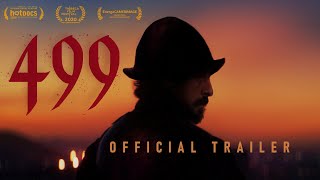 Virtual Screening Available In the USA
Available Friday, August 27 – Thursday, September 16
To reflect on the 500-year anniversary of the Spanish conquest of Mexico in 2021, director Rodrigo Reyes offers a bold hybrid cinema experience exploring the brutal legacy of colonialism in contemporary Mexico. Through the eyes of a ghostly conquistador, the film recreates Hernán Cortez's epic journey from the coasts of Veracruz to the Aztec capital of Tenochtitlan, the site of contemporary Mexico City. As the anachronistic fictional character interacts with real-life victims of Mexico's failed drug wars and indigenous communities in resistance, the filmmaker portrays the country's current humanitarian crisis as part of a vicious and unfinished colonial project, still in motion, nearly five hundred years later. Provocative, unique, and strikingly cinematic, 499 mixes non-fictional and performative elements with elements of the road movie to show how past traumas continue to affect contemporary reality. While linking these seemingly disparate histories of violence, the film confirms Reyes as one of the most potent voices in American independent cinema.
In Spanish with English subtitles.