Party + Events
10th Anniversary Fundraiser: The Future of Montclair Film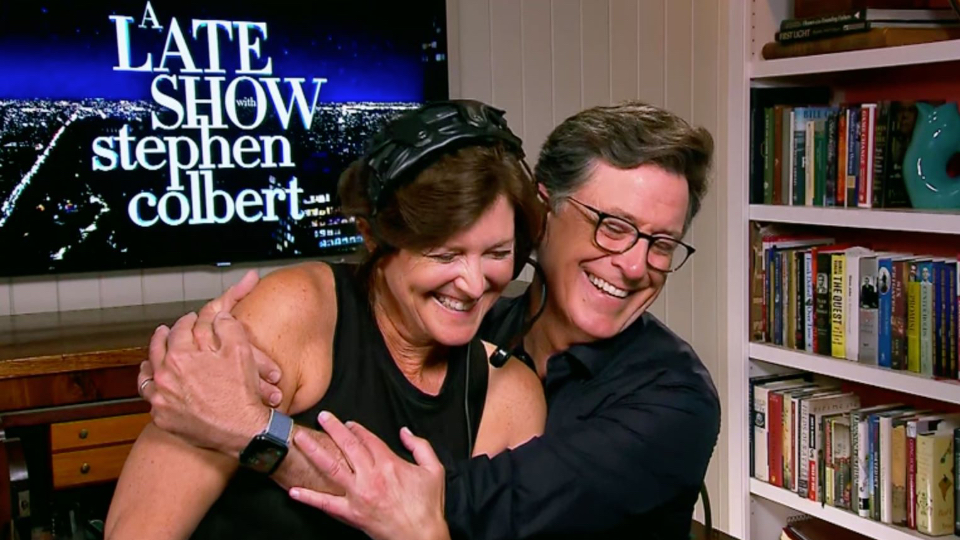 Buy tickets
$50 General Admission
$500 VIP Donor Package
$2,500+ Sponsor Table(s)
Available ONLY on Friday, May 7th at 7:00 PM EDT
VIP Cocktail Lounge opens at 8:00 PM EDT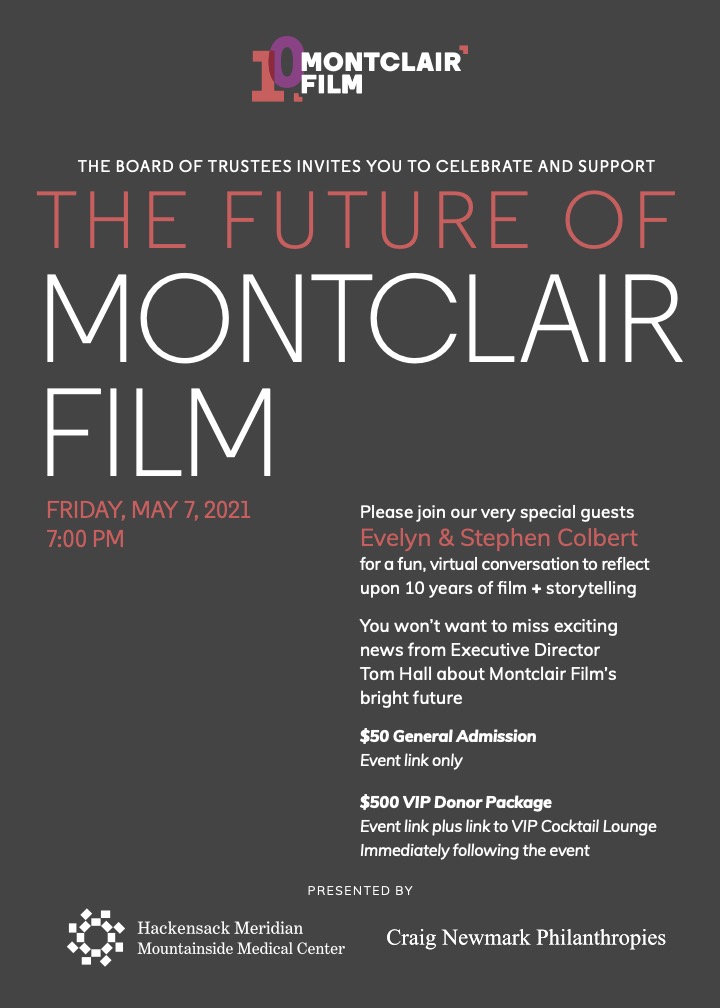 General Admission
One link to enjoy the virtual event (good for one family/one location)
$50
---
Sponsor Ticket/VIP Donor Package
Donors at this level will be entered to win two (2) tickets to the first in-person live studio taping of The Late Show With Stephen Colbert and be listed in the Festival Guide as 10TH ANNIVERSARY DONORS
One link to enjoy the virtual event (good for two people/one location)
One link to VIP Cocktail (good for two people)
Delivery of VIP treats to one address (good for two people)
$500
---
Sponsor Table (three couples/six guests)
Guests at this level will be entered to win two (2) tickets to the first in-person live studio taping of The Late Show With Stephen Colbert and be listed in the Festival Guide as 10TH ANNIVERSARY DONORS
Three (3) links, good for 6 people to enjoy the virtual event;
Links for up to six (6) people to join virtual VIP Cocktail Lounge after the event
Delivery of VIP treats to three addresses (good for two people each, total of six people)
Access to private green room for six guests, including on-screen photo of your group with Evelyn and Stephen Colbert
$2,500
---
Sponsor Table (six couples/12 guests)
Guests at this level will be entered to win two (2) tickets to the first in-person live studio taping of The Late Show With Stephen Colbert and be listed in the Festival Guide as 10TH ANNIVERSARY DONORS
Opportunity for one of your guests to ask a live question at the pre-taped show
Up to six (6) links, good for 12 people to enjoy the virtual event;
Links for up to 12 people to join virtual VIP Cocktail Lounge after the event
Delivery of VIP treats to six addresses (good for two people each, total of 12 people)
Access to private green room for 12 guests, including on-screen photo of your group with Evelyn and Stephen Colbert
$5,000
---
Thanks to you and your generous support over the years, Montclair Film has quite a bit to celebrate during our 10th anniversary season!
This past year, Montclair Film pivoted and found fresh ways to fulfill our mission. We are nimble, we are resilient, and we've been spending wisely. To keep our audiences safe and films rolling, we built a new Virtual Cinema for screenings, panels, and conversations. We created the Carpool Theater series and shifted film education and community storytelling programs online. And, we are proud to report we kept our full-time staff employed.
Since the beginning, Montclair Film's role—our passion—has been to build community, to strengthen bonds between neighbors, to showcase the art of film and storytelling, and to encourage all of us to find ways to "Discover Together." Togetherness is the soul of our organization. We create together. We face challenges together. We overcome together. We know we are stronger when we're together.
Our next chapter promises to bring us all even closer together, and we want to make sure you are a part of Montclair Film's bright future. We hope you will join us on May 7th, at this very special virtual fundraising event as we reflect on some inspiring, eye-opening, and laugh-out-loud moments from our first ten years. You won't want to miss it!
Thank you for being part of our first celebrated decade. Montclair Film is well positioned to continue to succeed with a dynamic program that speaks to the wonderful diversity of our community, and we can't wait to share our exciting plans for the future.
We appreciate your consideration,

Special Thanks to Our Partners