News
Montclair Film Unveils New Seats at The Clairidge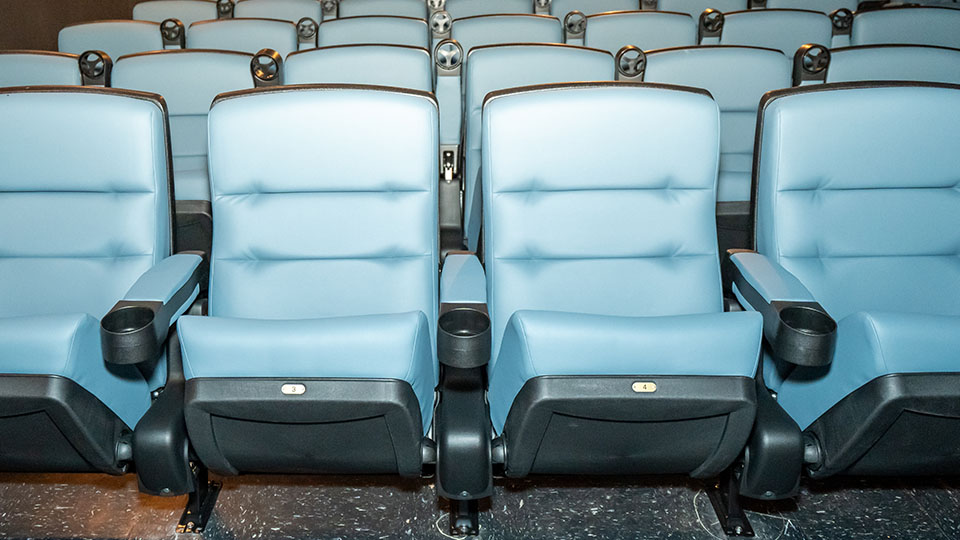 Construction was completed today at The Clairidge as the theater reopened for business. The theater has been closed since August 14 in order to remove
the cinema's old seats and replace them with new seating.
The project was funded in part from a Capital Arts Grant by the New Jersey State Council on the Arts and private foundation support. "The grant allowed us to replace the old seats that were starting to fall apart," stated Executive Director/Co-Head Beth Gottung. "Our new Irwin Signature seats are larger, provide more leg room for our patrons, and better sight lines for enjoying films on the big screen."
Local design firm RHG Architecture & Design, who led the original redesign of The Clairidge with Montclair Film, consulted on the project.
The seats in all six cinemas have been replaced. Theater 6, which is the smallest theater, was renovated with reclining seats. "Theater 6 is used most often for our private rentals, so we wanted to give those parties an extra special experience," said Tom Hall, Artistic Director/Co-Head of Montclair Film. "Just because you're supporting a non-profit cinema, doesn't mean that you should be uncomfortable. These upgrades take our theater to the next level."
If you'd like to help keep this historic theater thriving in our community, consider making a gift. All support at $500 or above will receive naming recognition on a plaque.

The theater is reopening with a number of special events in September. Over the course of the month, four special screenings with filmmakers will take place:
• September 7th –
BIRTH/REBIRTH
– Q&A with Director Laura Moss
• September 14th –
LITTLE RICHARD: I AM EVERYTHING
– Q&A with Director Lisa Cortés
• September 24th –
THE ELEPHANT 6 RECORDING CO.
– Q&A with Ben Crum of The Elephant 6 Band Great Lakes
• September 29th –
EXPOSURE
– Q&A with Director Holly Morris