Shorts Program
Shorts: Shorts for All Ages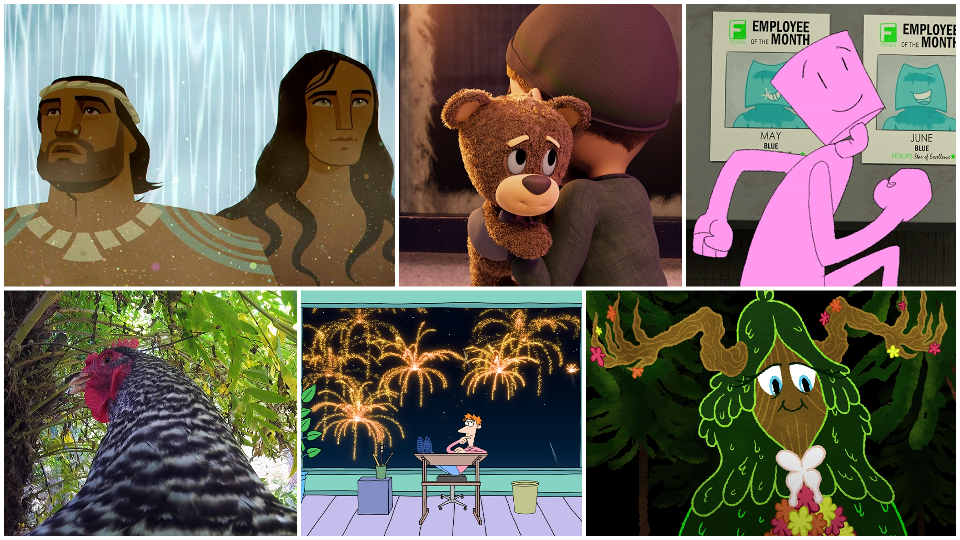 AIKĀNE (dir. Daniel Sousa, Dean Hamer, Joe Wilson, USA, 14 min)
A valiant island warrior falls into a mysterious underwater world.
BEAR HUGS (dir. Maggie May Brummer, USA, 2 min)
A teddy bear is on a mission to get to a special someone for Christmas.
BOXED OUT (dir. Rachel Cooley, USA, 6 min)
A 2D animated, slapstick comedy about two coworkers getting into a prank war at work.
CHICKEN STORIES (dir. Jonathan Pickett, USA, 17 min)
On a start-up farm outside Oakland, various chicken flocks surmount daily obstacles while the newbie farmers attempt to Google their way to help.
DRAWING BORED (dir. Mick Posch, USA, 2 min)
An artist struggles to find inspiration, unaware of the increasingly strange goings-on outside his window.
IN YOUR ELEMENT (dir. Arel Gabbay, USA, 3 min)
Mother Nature leads her children, the four elements, to work together and create something beautiful.
Q&A with director Arel Gabbay (IN YOUR ELEMENT) to follow. 
Accessibility