News
The Montclair Film Festival Announces 2022 Tribute To Daniel Craig, Hosted by Stephen Colbert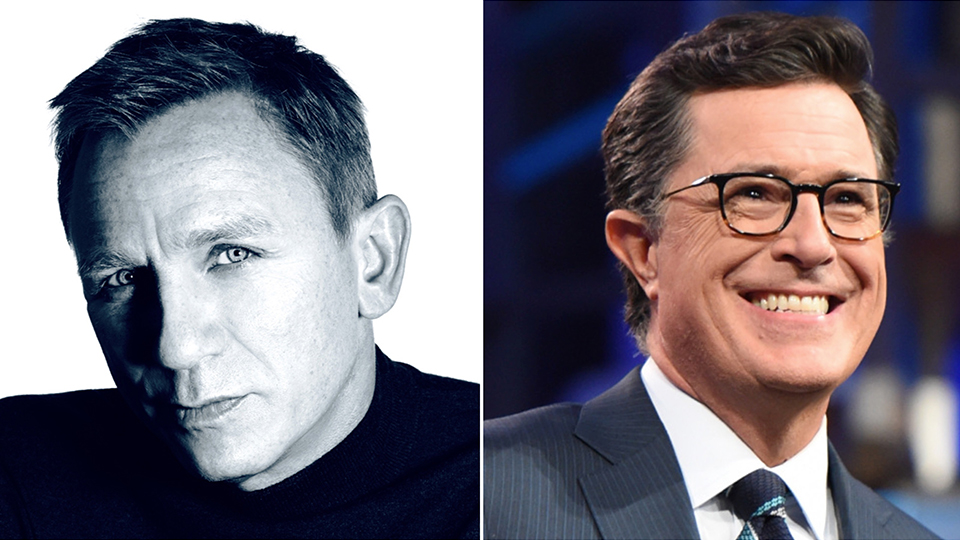 The Montclair Film Festival Announces 2022 Tribute To Daniel Craig,
Hosted by Stephen Colbert, Set For October 28, 2022
At NJPAC in Newark, NJ 
GLASS ONION: A KNIVES OUT MYSTERY,
Directed by Academy Award® Nominated Rian Johnson and Starring Daniel Craig, Set As The Opening Night Film Of The 11th Annual Montclair Film Festival on October 21, 2022 at The Wellmont Theater in Montclair, NJ
Today, Montclair Film, New Jersey's leading film non-profit, announced that The Montclair Film Festival will present its 2022 Tribute to Daniel Craig, star of the highly anticipated GLASS ONION: A KNIVES OUT MYSTERY with Stephen Colbert hosting Mr. Craig on stage at the New Jersey Performing Arts Center (NJPAC) in downtown Newark, NJ on Friday, October 28, 2022 at 8:00 PM. The pair will sit down for an unforgettable evening of conversation celebrating Mr. Craig's extraordinary career as one of the cinema's most distinguished actors.
Public tickets are available online at www.njpac.org and ticketmaster.com, by telephone at 1-888-GO-NJPAC (1-888-466-5722), and at the NJPAC Box Office at One Center Street in downtown Newark.
All proceeds from this special evening will benefit Montclair Film, a 501(c)3 non-profit arts organization that hosts the annual Montclair Film Festival (MFF), owns and operates Montclair's six-screen art house cinema The Clairidge, and provides year-round film education, storytelling, and community programs throughout New Jersey that serve tens of thousands of patrons each year.  
The MFF's salute to Daniel Craig kicks off on October 21, 2022 when the 11th Annual Montclair Film Festival opens with Rian Johnson's GLASS ONION: A KNIVES OUT MYSTERY. In this follow up to KNIVES OUT, Detective Benoit Blanc (Daniel Craig) travels to Greece to peel back the layers of a mystery involving a new cast of colorful suspects, featuring Edward Norton, Janelle Monáe, Kathryn Hahn, Leslie Odom Jr., Jessica Henwick, and Madelyn Cline with Kate Hudson and Dave Bautista. Written and Directed by Rian Johnson, GLASS ONION: A KNIVES OUT MYSTERY will release globally on Netflix on December 23.
The festival's Opening Night begins at 7:30 PM on October 21, 2022 at The Wellmont Theater in Montclair, NJ. Tickets for the MFF's Opening Night screening of GLASS ONION: A KNIVES OUT MYSTERY go on sale on Monday, October 3, 2022 at 10:00 AM for Montclair Film Members and Friday, October 7, 2022 at 10:00 AM for the public. Tickets for this event will be available at montclairfilm.org 
"We are thrilled to honor Daniel Craig at the Montclair Film Festival with our 2022 Tribute, and to share his work in Rian Johnson's uproarious new thriller GLASS ONION on Opening Night," said Tom Hall, Co-Head and Artistic Director of Montclair Film. "We look forward to welcoming Mr. Craig to the festival and to a fun, celebratory evening hosted by Stephen Colbert exploring Mr. Craig's unforgettable roles and his exceptional career."
"Our 2022 Tribute to Daniel Craig marks a new step forward for the Montclair Film Festival, bringing the festival to NJPAC for the first time," said Montclair Film Co-Head and Executive Director Beth Gottung. "We want to thank our partners and colleagues at NJPAC for providing us with the opportunity to host Daniel Craig and Stephen Colbert in their beautiful theater, our friends at Netflix for sharing GLASS ONION as the Opening Night Film of the 2022 Montclair Film Festival, and to Stephen and Evie Colbert, for their enduring and extraordinary support of our work at Montclair Film. "  
The full program for the 11th Annual Montclair Film Festival will be announced on September 30, 2022, with the festival taking place October 21-30, 2022.
ABOUT DANIEL CRAIG

Daniel Craig is hailed as one of the finest actors of his generation on stage, screen, and television. Last year Craig returned for his fifth and final turn as 'Bond' in NO TIME TO DIE. The film was nominated for Outstanding British Film of the Year at the 2022 BAFTA Film Awards and won the Academy Award for Original Song.

In 2019 Craig was seen in Rian Johnson's hugely successful film, KNIVES OUT. A whodunit contemporary murder mystery, Daniel starred as 'Benoit Blanc' alongside Jamie Lee Curtis, Michael Shannon, Chris Evans, and Toni Colette. Craig's standout performance earned him a Golden Globe Award nomination. He will reprise his role for the sequel – GLASS ONION: A KNIVES OUT MYSTERY – alongside a stellar cast including Kathryn Hahn, Dave Bautista, Edward Norton, Kate Hudson, and Jessica Henwick.
2018 saw Daniel star as 'Obie Hardison' in KINGS with Halle Berry and Rick Ravanello. Set in the violent aftermath of Rodney King's trial in 1992, the story follows a foster family in South Central and the implications the verdict has on their lives. Prior to this, Daniel was seen in Steven Soderbergh's LOGAN LUCKY as 'Joe Bang' alongside Adam Driver, Channing Tatum, and Sebastian Stan. The story concerns two brothers who attempt to pull off a heist during a NASCAR race in North Carolina.
2015 saw Daniel star in the eagerly anticipated SPECTRE. Craig was seen returning as 'James Bond' for the third time, in the critically acclaimed box office smash SKYFALL. He has also starred as 'Bond' in QUANTUM OF SOLACE and CASINO ROYALE. In 2011 Craig starred in THE GIRL WITH THE DRAGON TATTOO directed by David Fincher, he played the lead character Mikael Blomkvist opposite Rooney Mara. Craig's earlier film credits include LOVE AND RAGE, OBSESSION, THE POWER OF ONE, ROAD TO PERDITION, LAYTER CAKE, INFAMOUS and Steven Spielberg's Oscar®-nominated film MUNICH.
ABOUT STEPHEN COLBERT
Stephen Colbert currently hosts the Emmy and Peabody Award winning, #1 show in late night "The Late Show with Stephen Colbert." From 2005 to 2014, he hosted "The Colbert Report" on Comedy Central, following his eight years as a correspondent on "The Daily Show." "The Report" received two Peabody Awards, two Grammy Awards, five Emmy Awards, and thirty-seven total Emmy Nominations. Colbert took over as host of "The Late Show" on September 8, 2015.
In addition to "The Late Show," Colbert serves as Executive Producer on the Paramount+ series, "Stephen Colbert Presents Tooning Out The News," Comedy Central's "Tha God's Honest Truth with Lenard 'Charlamagne' McKelvey," and previously, SHOWTIME's "Our Cartoon President." He is also an Executive Producer of "Derek DelGaudio's In & Of Itself," streaming on Hulu. In 2021, Colbert's Spartina Productions banner set a three-year first-look deal to develop television and streaming content for CBS Studios.
Colbert has also authored five books, the most recent of which, Whose Boat Is This Boat?, reached #1 on the New York Times Bestseller List. All proceeds from the book benefited the victims of Hurricane Florence and Michael, and most recently, COVID-19 relief. Raised in South Carolina, he currently resides in New Jersey with his wife, Evie. His birthday is May 13. Follow him on Twitter and Instagram @StephenAtHome.