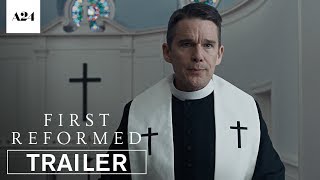 $14 Regular
$12 For Members (not a member?)
Please note, the date and time of this screening has changed since the catalog was printed.
In his stunning new film FIRST REFORMED, Paul Schrader (TAXI DRIVER) has made a deeply personal story about faith in crisis. Toller (Ethan Hawke, in a brilliant performance) is a priest who must grapple with dwindling attendance and the politics of his church's leadership. But when a young parishioner confesses his doubts in the face of the earth's environmental crisis, Toller's own life takes an unforeseen turn, bringing him face to face with his own conscience. Drawing from influences like Bresson, Dreyer, and Tarkovsky, Schrader has made an unforgettable film that is guaranteed to keep audiences talking.
Q&A with writer/director Paul Schrader to follow. 
Genre

Fiction, Drama, Environmental Interest, Faith, Politics, Thriller, Feature Film

Runtime

112 min

Section

Fiction Feature Competition

Director

Paul Schrader

Producer

Jack Binder, Greg Clark, Gary Hamilton, Victoria Hill

Cast

Ethan Hawke, Amanda Seyfried, Cedric Kyles

Country

USA

Facebook page

Twitter account