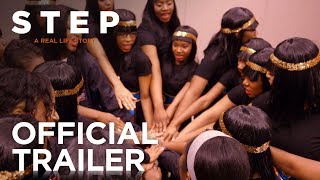 $25.00
$22.00 with membership (not a member?)
2017 Opening Night Film
Tickets for the Film ONLY and Film + Party TOGETHER are available by clicking Buy Tickets!
In STEP, her joyous, pulsating portrait of the "Lethal Ladies" step dancing team of the Baltimore Leadership School for Young Women, director Amanda Lipitz documents the team's high-stakes senior year of high school in inner-city Baltimore. As each girl strives individually to become the first in her family to attend college, they simultaneously work hard with the team to create an electric performance that will bring home a city championship. But when the challenges of school, home, a city on the edge, and the demands of the team threaten the unity of the group, it will take the special bond they have created to see them through to their ultimate goal. The Montclair Film Festival is proud to present STEP as our 2017 Opening Night Film.
"Lethal Ladies" Coach Gari McIntyre, BLSYW Director of College Counseling Paula Dofat, and producer Steven Cantor in attendance.
This screening is co-presented by Investors Bank.