News
MFF19 Awards Announced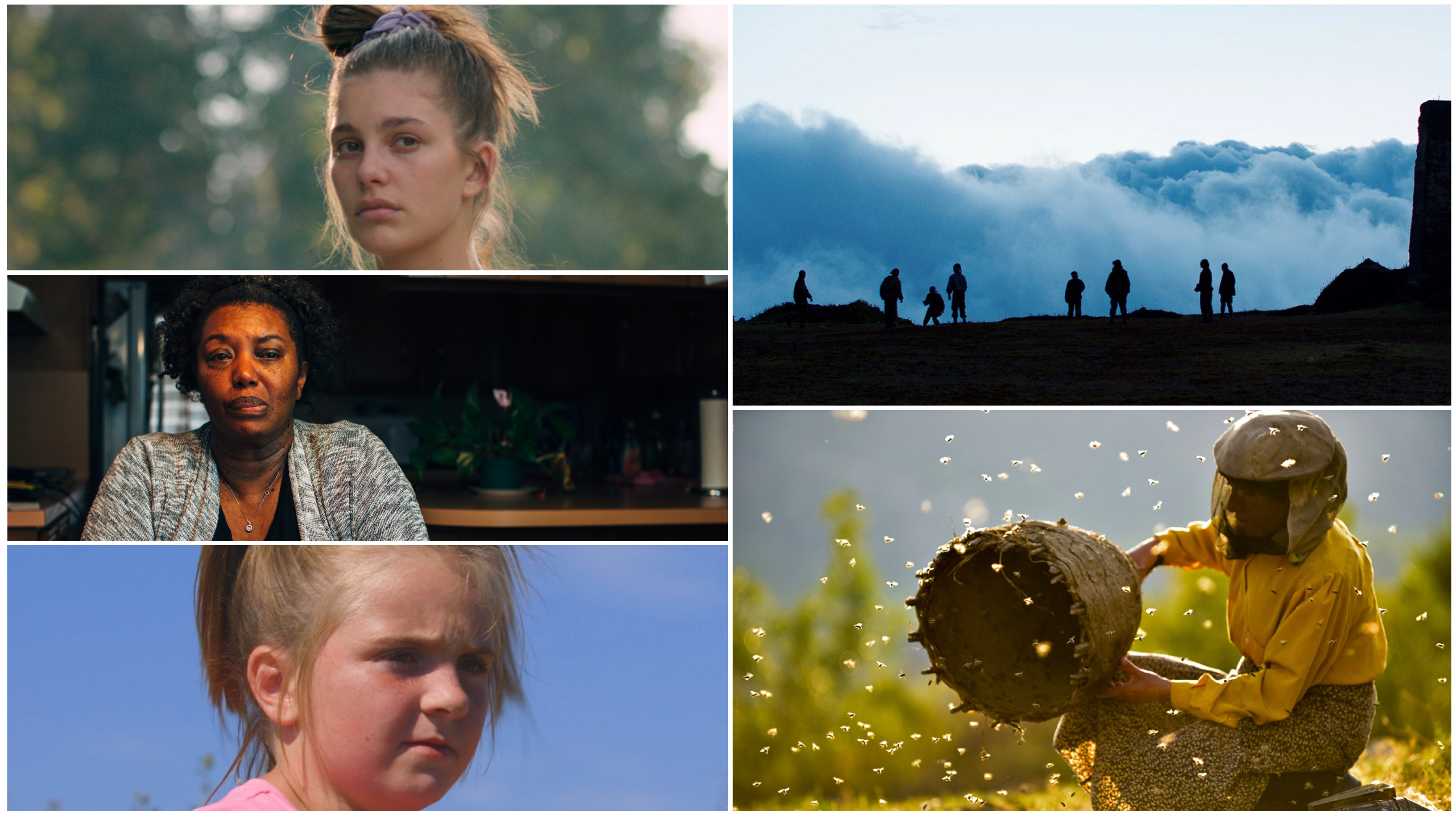 On Saturday night at the MFF19 Awards Ceremony, held at The Investors Bank Film & Media Center, the Montclair Film Festival announced the winners of our 2019 film competitions. Five films competed in each of the four juried categories: Fiction, Documentary, Future/Now, and New Jersey Films.
MONOS, directed by Alejandro Landes, was awarded the festival's Fiction Feature Prize with the cinematographer Hélène Louvart receiving a Special Jury Prize for her work in A FAMILY SUBMERGED.
HONEYLAND, directed by Ljubomir Stefanov and Tamara Kotevska, took home the Bruce Sinofsky Award in the festival's Documentary Feature Competition. A Special Jury Prize for Cinematography was awarded to Luke Lorenzen for MIDNIGHT FAMILY.
MICKEY AND THE BEAR, directed by Annabelle Attanasio, was awarded the inaugural Mark Urman Award for Fiction Filmmaking in the festival's Future/Now competition, honoring emerging low-budget American independent filmmaking. A Special Jury Prize was given to Zora Howard, for co-writing and her performance in PREMATURE.
LIFE WITH LAYLA, directed by Ken Spooner and Mike Mee, took home the New Jersey Films Award, which honors a select group of films made by New Jersey artists.
MOSSVILLE: WHEN GREAT TREES FALL, directed by Alexander Glustrom, took home the 5th Annual David Carr Award for Truth in Non-Fiction Filmmaking, which honors a filmmaker, selected by the festival, who utilizes journalistic techniques to explore important contemporary subjects and is presented in honor of Mr. Carr's commitment to reporting on the media. The award was presented by Mr. Carr's daughter, the filmmaker Erin Lee Carr.
The Audible Storyteller Award, given to a screenwriter who will receive the opportunity to meet with Audible to pitch original, scripted audio content, was given to Annabelle Attanasio for her screenplay for MICKEY AND THE BEAR.
The festival also features a Junior Jury, made up of area high school students representing eleven area schools. They awarded their Junior Jury Award to MOSSVILLE: WHEN GREAT TREES FALL, directed by Alexander Glustrom, with a Special Jury Prize for Cinematography awarded to Patrick Bresnan for his work on PAHOKEE.
The Montclair Film Festival Audience Awards were announced on Monday, May 13.
Rashaad Ernesto Green's PREMATURE took top honors in the Fiction Feature category, Rob Hatch-Miller and Puloma Basu's OTHER MUSIC won the Documentary Feature category, Danny Boyle's YESTERDAY won the audience prize for World Cinema, which honors films produced outside of the United States, and MACK WRESTLES, directed by Erin Sanger and Taylor Hess, took home top audience honors in the Short Film category. 
"We are so grateful to these filmmakers for sharing their work with our festival and audiences,"said Montclair Film Executive Director Tom Hall. "This year's festival brought together so many unique approaches and points of view,  which helped us foster community and connection among our attendees. We congratulate and thank all of our filmmakers for their outstanding work."
Congratulations to the 2019 winners of The Montclair Film Festival Awards!
---
The Films & Jurors of the 2019 Montclair Film Festival Competitions
DOCUMENTARY FEATURE COMPETITION
The Documentary Feature Competition features cinematic non-fiction films that examine the diverse possibilities of the form. The winning film in this category will be awarded the 4th Annual Bruce Sinofsky Prize for Non-Fiction Filmmaking.
AMERICAN FACTORY, directed by Steven Bognar and Julia Reichert
HONEYLAND, directed by Tamara Kovetska and Ljubomir Stefanov
THE HOTTEST AUGUST, directed by Brett Story
MIDNIGHT FAMILY, directed by Luke Lorentzen
PAHOKEE, directed by Ivete Lucas and Patrick Bresnan
2019 Documentary Jury: Sam Bisbee, Producer, Zach Scharf, Indiewire,Nick McCarthy, Newfest
FICTION FEATURE COMPETITION
The Fiction Feature Competition highlights the MFF's most ambitious, auteur-driven fiction films.
DIVINE LOVE, directed by Gabriel Mascarano
A FAMILY SUBMERGED, directed by Maria Alche
MANTA RAY, directed by Phuttiphong Aroonpheng
MONOS, directed by Alejandro Landes
ONE MAN DIES A MILLION TIMES, directed by Jessica Oreck
2019 Fiction Jury: Milton Tabbot, Independent Filmmaker Project,Tomris Laffly, New York Film Critics Circle,Caroline Kaplan, Cinereach
AUDIBLE STORYTELLER AWARD
MICKEY AND THE BEAR, written by Annabelle Attanasio
Winner selected by
David Blum – Editor in Chief, Audible Originals
Steve Feldberg – VP, Audible Originals
Emily Martinez – Producer, Audible Originals
Reid Armbruster – Senior Director, Marketing, Audible Originals and Exclusives

FUTURE/NOW COMPETITION
The Future/Now Competition celebrates American, low-budget independent filmmaking by first or second time feature film directors who are creating innovative, challenging films.
JULES OF LIGHT AND DARK, directed by Daniel Laabs
LIGHT FROM LIGHT, directed by Paul Harrill
MICKEY AND THE BEAR, directed by Annabelle Attanasio
PREMATURE, directed by Rashaad Ernesto Green
THE WORLD IS FULL OF SECRETS, directed by Graham Swon
2019 Future Now Jury: Matt Cowal, Netflix, David Sims, The Atlantic,Lauren Sanchez, Vogue
NEW JERSEY FILMS COMPETITION
The New Jersey Films competition this year focuses on non-fiction films directed, produced by, or featuring New Jersey talent.
FOR THEY KNOW NOT WHAT THEY DO, directed by Daniel Karslake
THE INFILTRATORS, directed by Cristina Ibarra and Alex Rivera
LIFE WITH LAYLA, directed by Ken Spooner and Mike Mee
MOSSVILLE: WHEN THE GREAT TREES FALL, directed by Alexander Glustrom
WHAT SHE SAID: THE ART OF PAULINE KAEL, directed by Rob Garver
2019 New Jersey Films Jury: Leigh Blickley, Huffington Post,Clayton Davis, Awards Circuit,Rafer Guzman, Newsday
2019 Montclair Film Festival Audience Awards
Audience Award Winner Fiction Feature
PREMATURE
Directed by Rashaad Ernesto Green
Audience Award Winner Documentary Feature
OTHER MUSIC
Directed by Rob Hatch-Miller and Puloma Basu
Audience Award Winner World Cinema
YESTERDAY
Directed by Danny Boyle
Audience Award Winner Short Film
MACK WRESTLES
Directed by Erin Sanger and Taylor Hess