News
Montclair Film Festival Announces 2023 Opening, Closing, Centerpiece Films and Festival Honors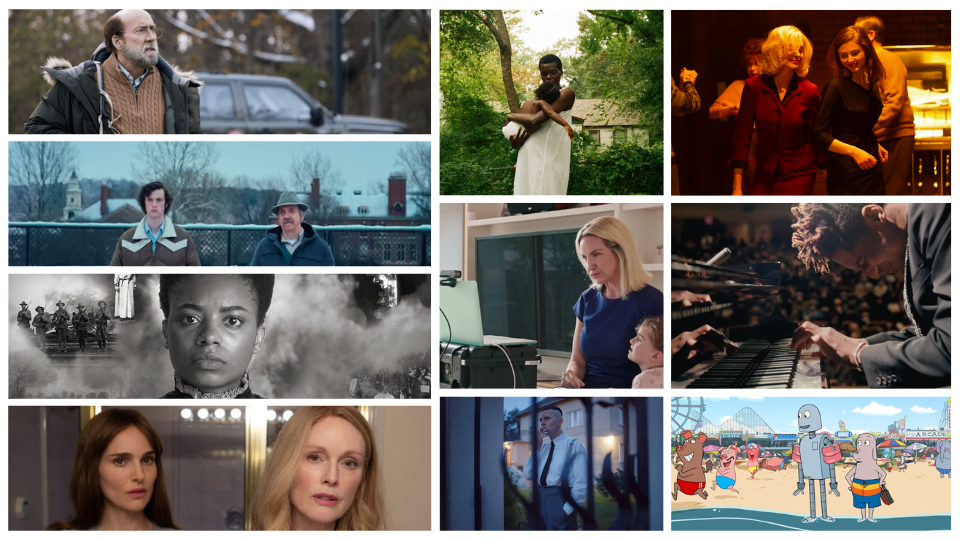 Kristoffer Borgli's DREAM SCENARIO to Open The 12th Annual Festival, Alexander Payne's THE HOLDOVERS Set As Fiction Centerpiece, Roger Ross Williams' STAMPED FROM THE BEGINNING Set as Documentary Centerpiece, Pablo Berger's ROBOT DREAMS screens as Family Centerpiece, and William Oldroyd's EILEEN To Close The Festival
2023 Montclair Film Festival Honors include Documentary Filmmaker Award to Matthew Heineman for AMERICAN SYMPHONY, Breakthrough Writer Director Award to Raven Jackson for ALL DIRT ROADS TASTE OF SALT, Breakthrough Performer Award to Christian Friedel for THE ZONE OF INTEREST, and the David Carr Award For Truth In Filmmaking To Heather Courtney, Princess A. Hairston, and Chelsea Hernandez for BREAKING THE NEWS
Jon Batiste and Suleika Jaouad To Attend AMERICAN SYMPHONY screening, Participate in Q&A, Todd Haynes To Attend MAY DECEMBER Participate in Q&A Moderated by Stephen Colbert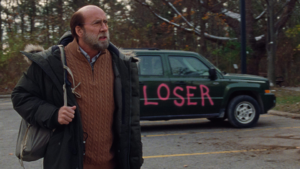 Opening Night Film: DREAM SCENARIO
Friday, October 20, 7:00pm, The Wellmont
In DREAM SCENARIO, Nicolas Cage stars as Paul Matthews, a listless family man and tenured professor with an affinity for evolutionary biology and anxiety regarding his own anonymity. One day, he discovers he has begun to appear in other people's dreams and he becomes an overnight celebrity, showered with the attention he has long been denied. But when Paul encounters a dreamer whose visions of him differ substantially from the norm, he finds himself grappling with the Faustian bargain of fame. DREAM SCENARIO is an inventive comedy, filled with unpredictable twists and turns, driven by outstanding performances (including a performance by Nicolas Cage that ranks among his career best) and visionary insight into the unsettling power of contemporary celebrity. Montclair Film is proud to present DREAM SCENARIO as the Opening Night Film of the 2023 Montclair Film Festival.
A Q&A with Writer Director Kristoffer Borgli follows the screening
DREAM SCENARIO is an A24 release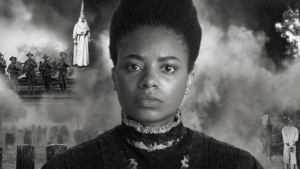 Documentary Centerpiece: STAMPED FROM THE BEGINNING
Sunday, October 22, 3:30pm, The Wellmont
Oscar-winning director Roger Ross Williams brings Dr. Ibram X. Kendi's New York Times bestseller to the screen with STAMPED FROM THE BEGINNING. Published in 2016, Dr. Kendi's National Book Award winner chronicles the entire story of anti-Black racist ideas and their staggering power over the course of American history. Williams' documentary adaptation uses vivid animations that illuminate figures and moments both well-known and obscure, both historical and contemporary. Leading Black women academics and activists such as Dr. Angela Davis, Honorée Fanonne Jeffers, Brittany Packnett Cunningham, Dr. Jennifer L. Morgan, and Dr. Kendi guide viewers through a searing account of how racist tropes and imagery were developed and enshrined in American culture.
A Q&A with director Roger Ross Williams follows the screening
STAMPED FROM THE BEGINNING is a Netflix release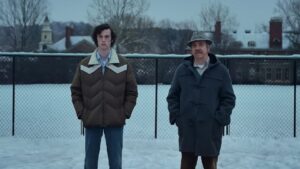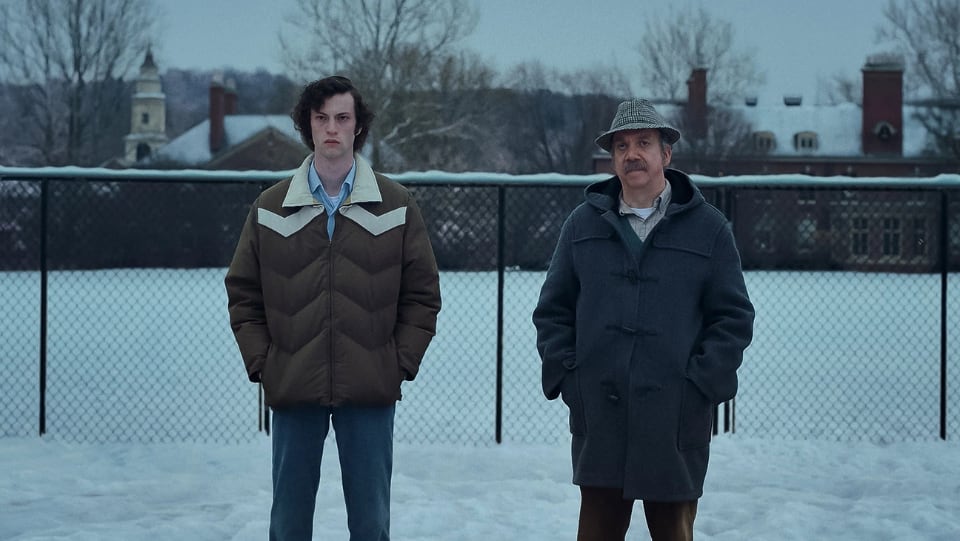 Fiction Centerpiece: THE HOLDOVERS
Sunday, October 22, 7:30pm, The Wellmont
From acclaimed director Alexander Payne, THE HOLDOVERS follows a curmudgeonly instructor (Paul Giamatti) at a New England prep school who is forced to remain on campus during Christmas break to babysit the handful of students with nowhere to go. Eventually he forms an unlikely bond with one of them — a damaged, brainy troublemaker (newcomer Dominic Sessa) — and with the school's head cook, who has just lost a son in Vietnam (Da'Vine Joy Randolph). Featuring brilliant performances, THE HOLDOVERS is a comedy that is destined to become a holiday classic, a film that warmly recalls sensibilities of the cinema of the 1970's while retaining a delightful feeling of contemporary resonance.
THE HOLDOVERS is a Focus Features release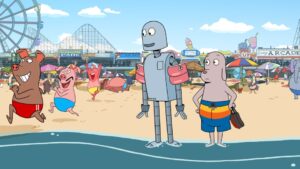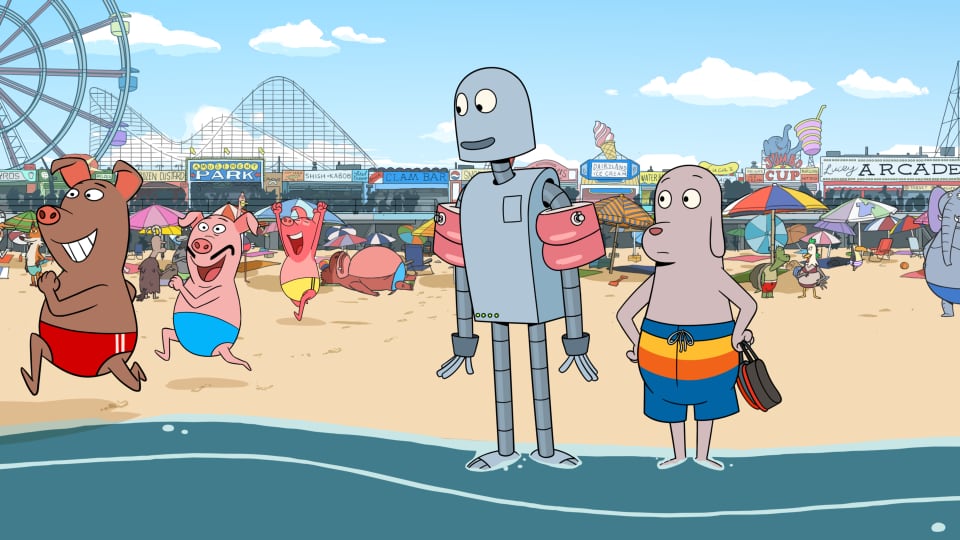 Family Centerpiece: ROBOT DREAMS
Saturday, October 28, 4:00pm, MKA Upper School
Based on the popular graphic novel by the North American writer Sara Varon, ROBOT DREAMS tells the story of the adventures and misfortunes of Dog and Robot. Dog lives in Manhattan and he's tired of being alone, so one day he decides to build himself a robot, a companion. Their friendship blossoms, and they become inseparable. One summer night, Dog, with great sadness, is forced to abandon Robot at the beach. As time passes and life continues to develop in unexpected ways, their paths through the world diverge. But can fate bring Dog and Robot back together again? Set to the musical sounds of the early 1980's and filled with charm, ROBOT DREAMS is a movie for all ages that is guaranteed to pull at your heartstrings.
As part of Montclair Film's ongoing commitment to celebrate the neurodiversity of our patrons of all ages, The Montclair Film Festival is proud to present a very special Sensory Friendly screening of ROBOT DREAMS on Sunday, October 22 at 1:30 PM at our non-profit cinema The Clairidge. For these special screenings, we dim the lights and bring the sound slightly down and encourage patrons to enjoy films in a safe and accepting environment.
ROBOT DREAMS is a NEON release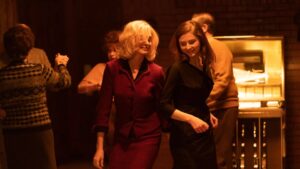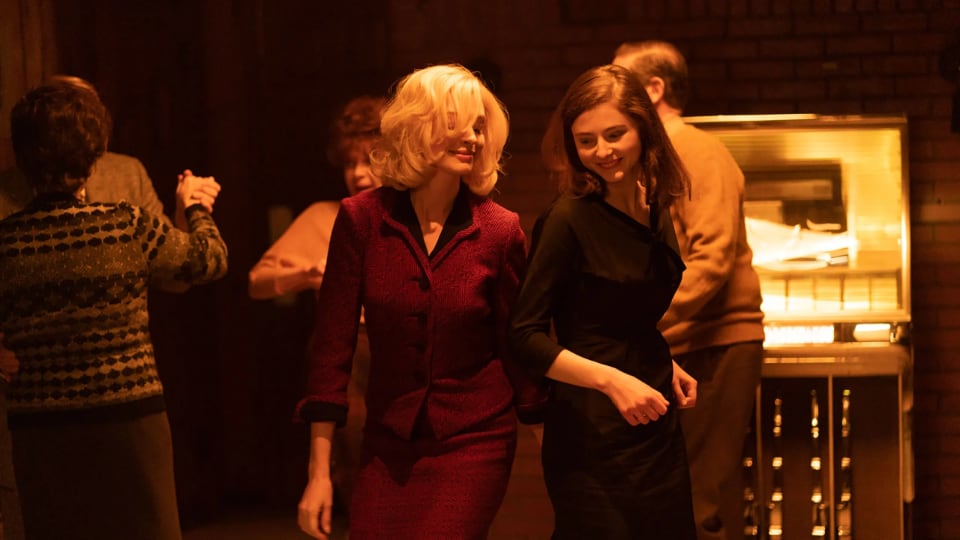 Closing Night Film: EILEEN
Sunday, October 29, 7:30pm, MKA Upper School
Based on the book of the same name by bestselling author, Ottessa Moshfegh and set during a bitter 1964 Massachusetts winter, EILEEN is the story of a young secretary named Eileen (Thomasin McKenzie) who becomes enchanted by Rebecca (Anne Hathaway), the glamorous new counselor at the prison where she works. Their budding friendship takes a twisted turn when Rebecca reveals a dark secret — throwing Eileen onto a sinister path. Filmed right here in New Jersey, William Oldroyd's EILEEN is a neo-noir that upends audience expectations with each new twist and turn, leading to jaw-dropping revelations and an unforgettable finale. The Montclair Film Festival is proud to present William Oldroyd's EILEEN as our 2023 Closing Night Film.
EILEEN is a NEON release
This year, the Montclair Film Festival continues its tradition of honoring artists whose work exemplifies the best in our cinema. The following artists join our previously announced 2023 Filmmaker Tribute honoree Martin Scorsese as recipients of the festival's 2023 Honors: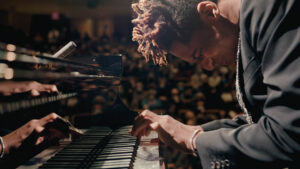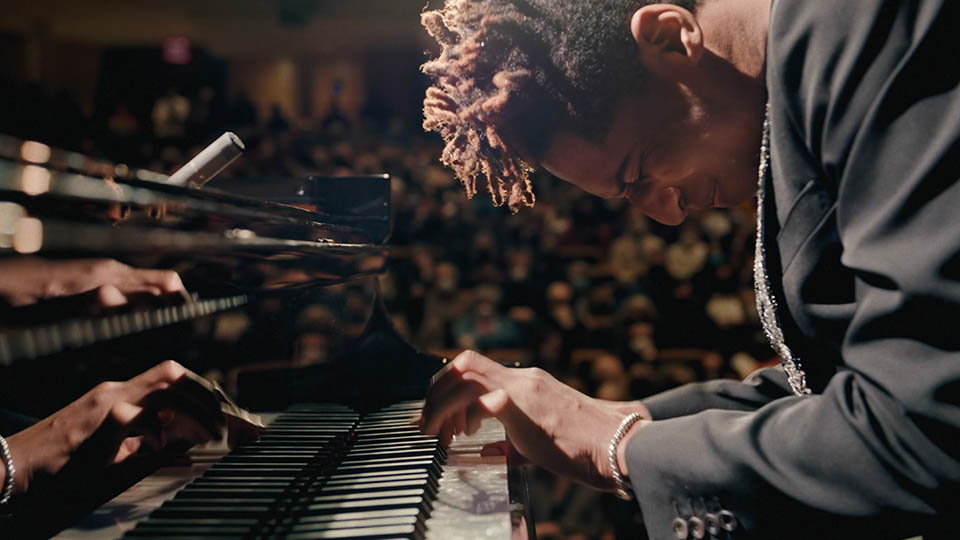 Documentary Filmmaker Award: AMERICAN SYMPHONY
Saturday, October 21, 3:30pm, The Wellmont
In his new film AMERICAN SYMPHONY, Academy Award-nominated director Matthew Heineman (CARTEL LAND, THE FIRST WAVE, RETROGRADE) turns his camera away from the global conflicts that have defined his award-winning career and toward something altogether different. What begins as a portrait of the composer and musician Jon Batiste's attempt to realize his vision for a symphonic composition is transformed by the harrowing realities of life when celebrated author Suleika Jaouad, who is married to Batiste, receives a diagnosis that her cancer has returned. Filled with life, tenderness, and beautiful music, AMERICAN SYMPHONY is a creative triumph of collaboration and an intimate portrait of artistic perseverance through the power of love.
A Q&A with Documentary Filmmaker Award winner Matthew Heineman, Jon Batiste, and Suleika Jaouad follows the screening
AMERICAN SYMPHONY is a Netflix release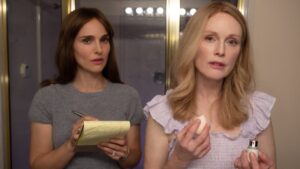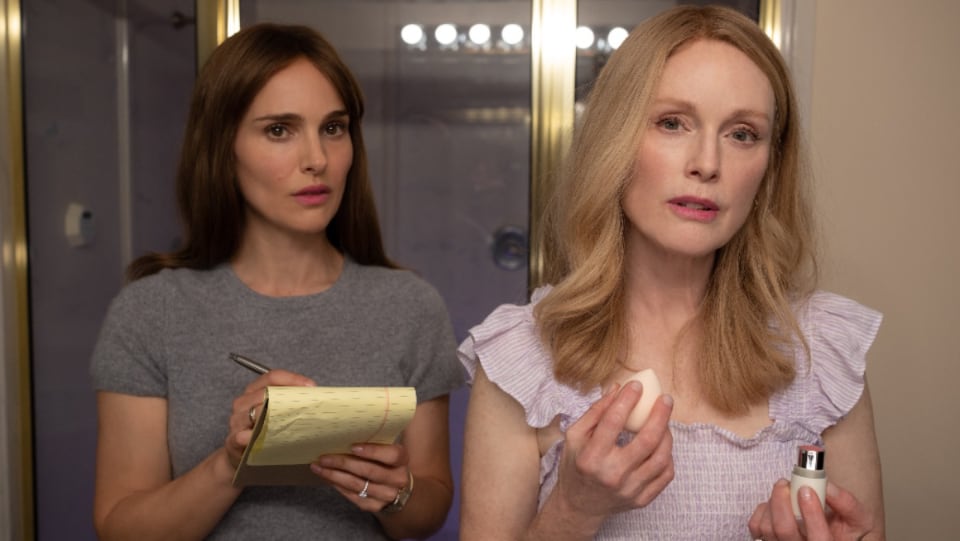 Director Award: MAY DECEMBER
Saturday, October 21, 7:30pm, The Wellmont
Gracie (Julianne Moore) and her husband Joe (Charles Melton) prepare for the arrival of Elizabeth (Natalie Portman), an actress preparing to play Gracie in a movie about her life and relationship with Joe. But as Elizabeth begins to explore Gracie's character, her process becomes intertwined with Gracie and Joe's lives, eliminating the ethical boundaries we construct between artifice and reality. Todd Haynes' MAY DECEMBER fits brilliantly within the director's ongoing exploration of the lives of women as they crash against social boundaries and expectations. Featuring brilliant performances by Julianne Moore, Natalie Portman, and Charles Melton, MAY DECEMBER is sure to be one of the year's most talked about films.
A Q&A with Director Award winner Todd Haynes, moderated by Stephen Colbert, follows the screening
MAY DECEMBER is a Netflix release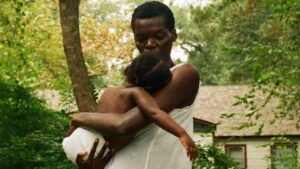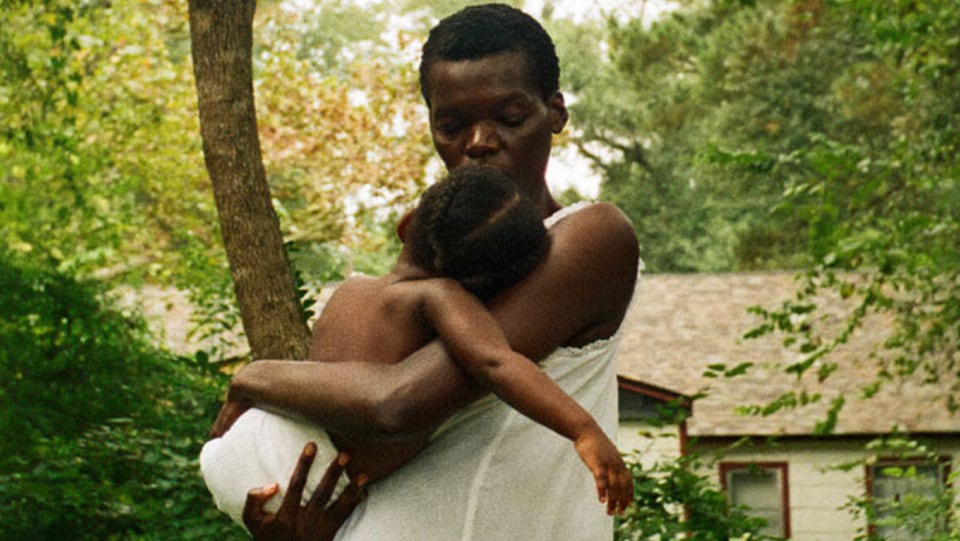 Breakthrough Writer Director Award: ALL DIRT ROADS TASTE OF SALT
Saturday, October 21, 8:00pm, The Clairidge
A lyrical, decades-spanning exploration across a woman's life in rural Mississippi, the feature debut from award-winning poet, photographer and filmmaker Raven Jackson is a haunting and richly layered portrait, a beautiful ode to the generations of people and places that shape us. ALL DIRT ROADS TASTE OF SALT is a unique, visionary film, one that draws on the history of cinema and Jackson's artistry to create an unforgettable sensory experience for audiences. The Montclair Film Festival is proud to award Raven Jackson, Director of ALL DIRT ROADS TASTE OF SALT, our 2023 Breakthrough Director Award.
A Q&A with Breakthrough Writer Director Raven Jackson follows the screening
ALL DIRT ROADS TASTE OF SALT is an A24 release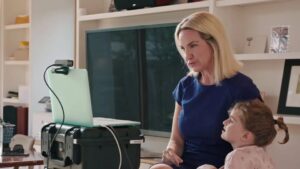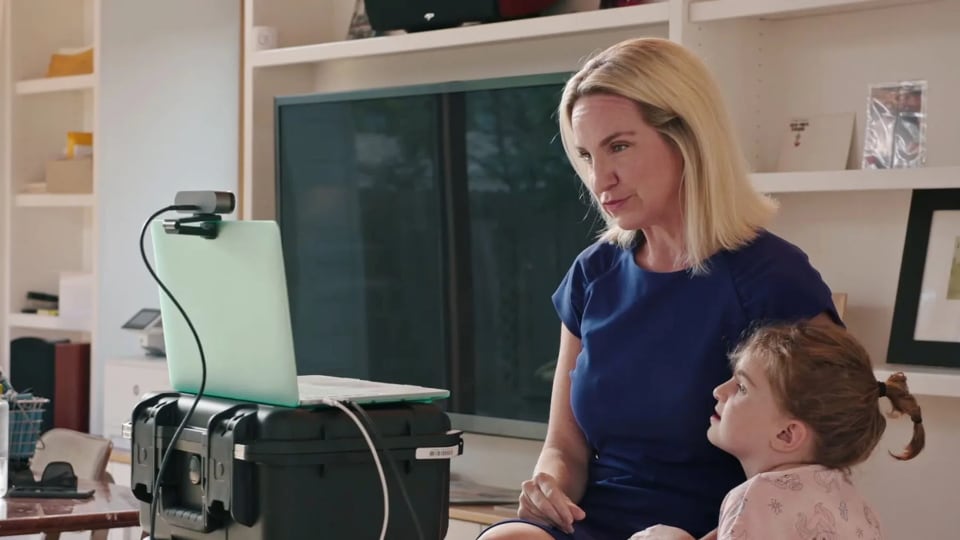 David Carr Award for Truth in Filmmaking: BREAKING THE NEWS
Sunday, October 22, 2:30pm, The Clairidge
Monday, October 23, 5:00pm, The Clairidge
Frustrated by the dearth of women and people of color in the media, Emily Ramshaw wanted to do something radical about the white men dominating newsrooms. So, in 2020, she and a motivated group of women and LGBTQ+ journalists banded together to buck the status quo and launch The 19th*, a digital news start-up based in Austin, Texas. Named after the 19th Amendment which gave women the right to vote, but with an asterisk to acknowledge the Black women and women of color who were omitted, The 19th*'s work is guided by the asterisk—asking who is overlooked in the story and how they can be included. With reporters spread across the country, they cover national news on politics and policy from the lens of marginalized communities historically ignored by legacy newsrooms. BREAKING THE NEWS documents the honest discussions at The 19th* around race and gender equity, revealing that change doesn't come easy, and showcases how one newsroom confronts these challenges both as a workplace and in their journalism. But this film is about more than a newsroom. It's about America in flux, and the voices that are often left out of the American story.
A Q&A With David Carr Award Winner Princess A. Hairston and 19th* Editor-At-Large Errin Haines follows the screening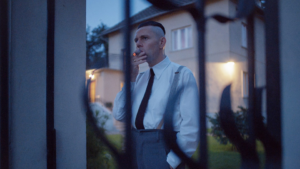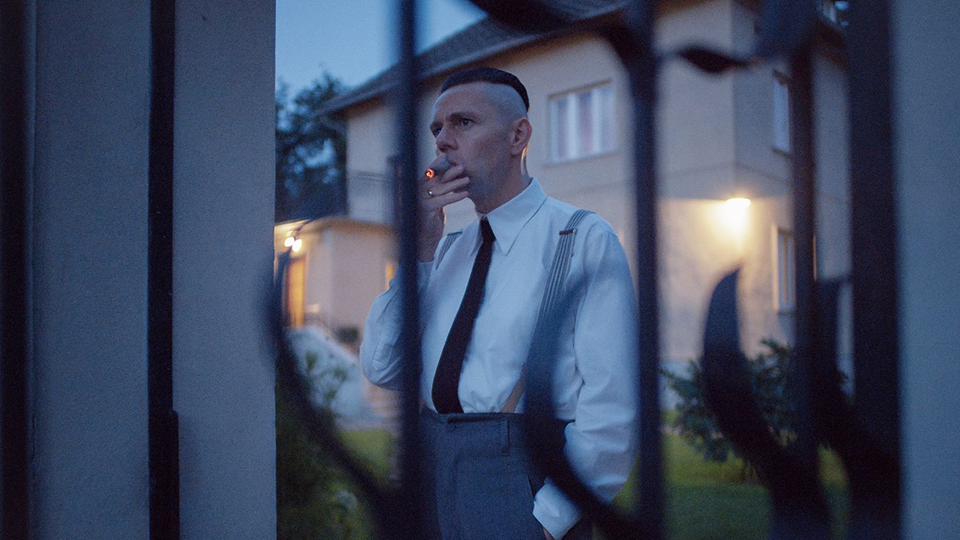 Breakthrough Performer Award: THE ZONE OF INTEREST
Sunday, October 29, 3:45pm, MKA Upper School
THE ZONE OF INTEREST, loosely adapted from Martin Amis' novel of the same name, is the story of Rudolph Höss (The Montclair Film Festival's 2023 Breakthrough Performer Christian Friedel), the commandant of Auschwitz, and his wife Hedwig (Sandra Hüller) as they look to build a happy life for their family next door to the camp. As the terrible reality of the Holocaust unfolds just beyond the frame, director Jonathan Glazer uses sound design and the meticulously depicted details of daily life to create a sense of ever-present dread. An unwavering examination of complicity and denial, Jonathan Glazer's THE ZONE OF INTEREST is a story of the past that continues to resonate in today's world.
A Q&A with Breakthrough Performer Christian Friedel follows the screening
THE ZONE OF INTEREST is an A24 release