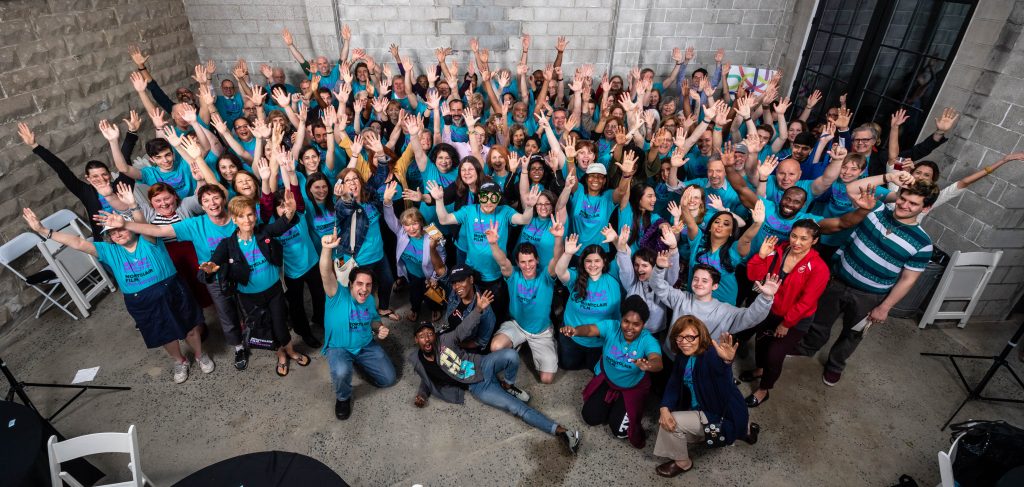 Montclair Film is a non-profit organization that relies greatly on the generosity of volunteers. We invite you to join us -– help out year-round, during the week of the festival, or BOTH! We will do our best to make the hard work of volunteering fun!
Volunteers must be at least 16 years old.
To become a Montclair Film volunteer, click below to complete our online registration form:

Festival Perks
A gorgeous t-shirt
A movie voucher for every 3 volunteer shifts at a theater during this year's festival. See Volunteer Handbook for details.
A free one year membership (or renewal, if applicable) for 12 hours of shifts worked during this year's festival (beginning with catalog distribution).
A volunteer discount on merchandise (15%)
Invitations to the Volunteer Appreciation Party and Volunteer Events throughout the year.
Festival Teams
Team

Description

Theater Operations

Set up signage, greet guests, usher guests into the theater, take tickets at the door, assist with line control inside and outside of the building & assist patrons with questions.

Box Office

Assist patrons in buying tickets after receiving training on our ticketing system.  Also responsible for printing and distributing will call tickets. Don't be intimidated! Our Box Office Manager will show you how easy it is. This is a great way to have a front-row seat for all the action in the theaters.

Merchandise

Take inventory, set up merchandise & manage sales at events, then handle packing up of merchandise at the close of the events.

Drivers

Pick up filmmakers and special guests from the airport, NYC, and other locations, as well as transport to/from hotels and venues. Must be over 25 years old with a valid driver's license and insurance.

Event Production

Set-up and breakdown event props and décor for MFF events. May need to climb ladders and do some heavy lifting. May also need to assist Managers during events.

Street Teams /
Local Business Outreach

Help spread the word to local businesses by passing out catalogs, flyers, and posters. Get to know local business owners!

Online Niche Marketing

Oversee online promotional efforts for films. They customize outreach based on specific interest groups for each event. Their job is to identify the audience for each event and get them to attend, while urging them to get out the word to others.

Photography

Shoot MFF events for photos that appear on our website and in MFF materials. *Professionals preferred.
For questions, email volunteer@montclairfilm.org.
Student Volunteer Opportunities
During the festival, high school students (of any age) are invited to join our Student Volunteer Program. For more information on this program, email Mecca Lewis, Student Volunteer Coordinator, at mecca@montclairfilm.org.
This program is made possible with support from the American Express Foundation.