I forgot my username/password and can't log into the website/Member Login.
Your username is the email address you used when you signed up for your membership.
If you are having trouble logging in with a password, click on "Forgot password" and a temporary password will be e-mailed to you from "Montclair Film Membership". It arrives quickly so be sure to check your spam/junk mail folder as it often gets sent there by email provider filters.
The email will provide a link and a temporary password. Click on the link and enter your temporary password. See example below. Please note that the password is case sensitive which means you will need to type the letters exactly as shown, uppercase and lowercase. You can also try to copy and paste it for accuracy.

After you enter the temporary password, you will then be prompted to create a new password of your own choosing. This will be your permanent password going forward.
How do I check my membership status, membership level or expiration date?
To sign in to your membership account, click "Member Login" in the upper right-hand corner menu on our homepage.
Then click on "Hi (your first name)" in the upper right-hand corner, and select "My Profile" to take you to your membership account. (see example below of what this looks like) This section summarizes your contact information, ticket purchases, donations, and your membership.
Click on "Benefit renewal" for a summary of your membership status, level, and expiration date.

Do I get a membership card or ID number when I join?
As a Montclair Film member, you won't need a membership card nor a membership number – one less thing for you to keep track of!
How do I purchase movie tickets with my membership discount?
There are two ways to purchase tickets with your membership.
Log in to your member account at the MontclairFilm.org OR TheClairidge.org website in the upper right-hand corner and continue browsing to find your tickets. Add tickets to your cart and you will see the discount towards the end of the checkout process.
Visit the Box Office at The Clairidge and simply let our staff know your name and purchase your discounted tickets.
I'm not receiving email from Montclair Film anymore.
We do not unsubscribe anyone from our emails (unless you request it) as this is our primary method of communication with members and our overall audience. It is important to know that we notify members via email about member events, advance ticket sales, festival schedules, as well as other events throughout the year.
To re-subscribe to our emails, click HERE.
How do I get access to pre-sale tickets?
When you are notified of member pre-sale dates, you will simply login on that date by clicking on the MEMBER LOGIN icon at the top right of our website. It looks like this:

Once you are successfully logged in you will see "Hi, (your name)" and the top of the screen. Then you will be able to see and access tickets that are only available to Montclair Film members.
I'm trying to buy tickets/classes but don't see the member price/discount.
First, you need to be logged into your member account. Then add tickets to your cart, and you will see the discount at Checkout. See example below.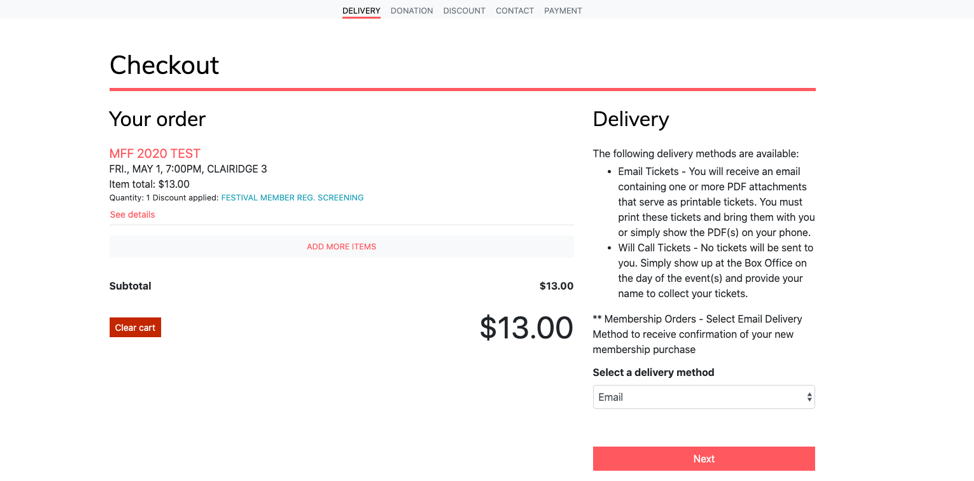 I would like to sign my child up for a class. What level of membership do I need to be at in order to receive the discount?
A Film Lover+ membership is required in order to receive discounts on child or teen classes.
How many free tickets do Members receive and how do I redeem them?
Montclair Film members receive two free tickets starting at the Film Lover+ membership level. Please note that ALL levels of members receive discounted tickets. The number of free tickets depends on the level of your membership
*Redeeming your free tickets to regular priced screenings is as easy as 1,2,3…
1. Log into your membership account on the website

2.  Add your tickets to your cart
3. Your free tickets will automatically be applied during the checkout process